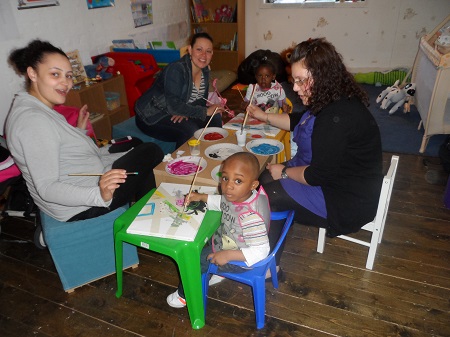 Women who join Skills Network are encouraged and supported to develop their own project and enterprise ideas.
Skills Network Projects
These projects are led by women who took part in some of our first courses. They are now being run with the support of many people in the group, as part of Skills Network:
Family Learning and Islam: adapting family learning tools and games to teaching about Islam and Arabic in preparation for a project with a local Muslim women's group.
Multisensory and multilingual nursery: 3 women who have been with Skills Network for a year are now managing a small crèche once a week looking after the children of new participants, and using some of the multisensory activities we develop with the children. They would like in the long term to develop this into a full time nursery. Here is more from Bibi...
Individual Enterprise Ideas
I joined Skills Network's ' Supporting Your Child' course in September 2012. I did not expect that I would end up going back to designs I started 10 years ago, and getting creative again! The support and ideas of everyone here has made me believe in myself and follow my dream...
Sharon Muir Collection
We want to encourage women in the group to have the confidence to recognize and use the skills and talents they have! These projects are the brainchilds of participants on our courses who wanted to use particular skills, experience and interests they had to set up their own businesses. We work with them to think through ideas, and then link them up with outside business mentoring..
Sharon Muir Collection: original designs with a funky Jamaican twist...
KRIOS: Motivational workshops for women who want to go back into work – sharing life experiences.
K'Diva: mobile make-up artist, face-painter, henna artist!
I am really grateful to the Skills Network group for supporting and pushing me towards my dream .... without them I would never have made the links I have with other organisations that can help me develop my business..."
K'Diva
Women who join Skills Network training programme get:
Support thinking through business idea and support with initial basic planning and budgeting
Opportunities to trial their idea with us
Encouragement and office space to use (two days per week from 10-3)
Feedback, ideas and support from a group of really clever, talented mothers.
Starting your own business is a real challenge. At Skills Network we believe in the benefits of working together. We all support each other, sharing skills, resources and talents to help each other succeed.