We Count is our social action programme. It aims to make sure the experiences and insights of mothers in Lambeth are heard and counted.
Skills Network effectively plants the seed that you do count, your ideas are important
We developed We Count when we realized that many mothers in the group do not feel that their voices matter when it comes to social and political issues that affect them and their children. Mothers on low incomes are affected by many EU, national and local government decisions. For our democracy and society to work well they need to be able to contribute to the debates around these decisions. They need to FEEL that they DO count in the social and political sphere.
Since joining Skills I have started getting more politically involved - and now I am going to meetings and participating and starting to argue politically about the injustices I see with my child
An important aspect of We Count is overcoming divisions between people in society. We don't want to create an 'us against them': service users complaining about service providers. We want to create an environment where service users and providers – and everyone with knowledge of a situation - can share experiences, come up with solutions and advocate for positive change together.
We use a variety of methods to work towards social change. Women who want to participate get training in research, lobbying and awareness raising skills in order to carry out the projects. They also take part in our Multisensory Money and our Language and Power courses. These courses help develop critical thinking skills and budgeting skills, enabling Skills Network activists to analyse the intentions and finances behind policies.
Current Social Action Projects
How well does JobCentre Plus in Lambeth work for mothers in Lambeth?
View the "What's our story" report here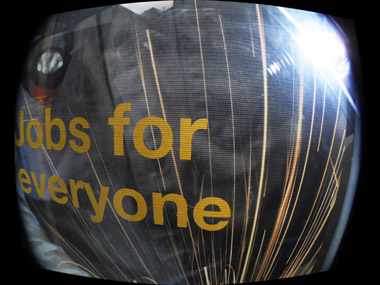 This project grew out of discussions between members of the group about their experiences of JobCentre Plus services. We wanted to find out more about other mothers' views and the views of the service providers, to try and understand the policies behind what people experience. We want to know: are the services offered by JobCentre Plus working for people? If not, what could be done differently?
We decided to answer these questions by carrying out peer research. This is participatory research which is planned and carried out with and by the people affected by an issue rather than 'on' them by 'experts'.
Project participants worked with a facilitator to choose questions they wanted to research. They received training in interviewing and other interactive data-gathering methods and carried out interviews with other mothers in the area. We used the citizens' jury model to explore current policy: 'expert' witnesses provided information about the issues we were investigating and respond to the questions and analysis of a wide group of mothers from the area. Through this process we brought the knowledge of mothers, service providers and policy makers together, in productive exchange that built a clear picture of the issues and challenges.
The findings of this project can be accessed in our project report here and please listen to our podcasts which can be heard above! We are now working with partner organisations to disseminate our findings, learn from each other and probe more deeply into some of the themes that have arisen.
Here are a few blogs about what engaging with JobCentre Plus means for some of our mums
For our next research project we will be building on one of the themes that has come out of this research: the notion that 'any work being better than no work' and the reality of in-work poverty for many women. We will be working with Gingerbread, and National Policy Institute to try and make sure we get as many stories to as many people as possible. Please get in touch if you would like to get involved!
After dissemination, we plan to work with others who agree with our recommendations to raise awareness of the issues and lobby for changes.
Through the peer research project I have become more observant to current issues through the media and more aware of how these issues are being represented.
I feel encouraged to question and think more independently on the bull that is being fed to me.
Hazel is part of our peer research project: interviewing other mothers,analysing social policy and questioning policy makers (in our citizen's juries). She has also returned to a passion she gave up years ago - writing poetry to express her views about what's going on around her.